Usually around this time of the year, I post a house tour of our decorations or my favorite things from the month. This year, I spotted this cute little 12 question Christmas "interview" online and decided it might be a fun way to show you around the house and share a bit about our Christmas traditions and ways...
1. What is your favorite Christmas film?
Already a tough one for me. Hands down, "Love Actually" will get watched multiple times this month. It's just a given for me. I love everything about that movie - the actors, the humor, the sap, the music, etc. Nick knows that if I'm flipping channels and I scroll by that title on the menu, it's getting turned on (much to his excitement). However, "Elf" also gets the same treatment at our house. If it's on, I have to at least watch until Buddy the Elf tries to get on the escalator!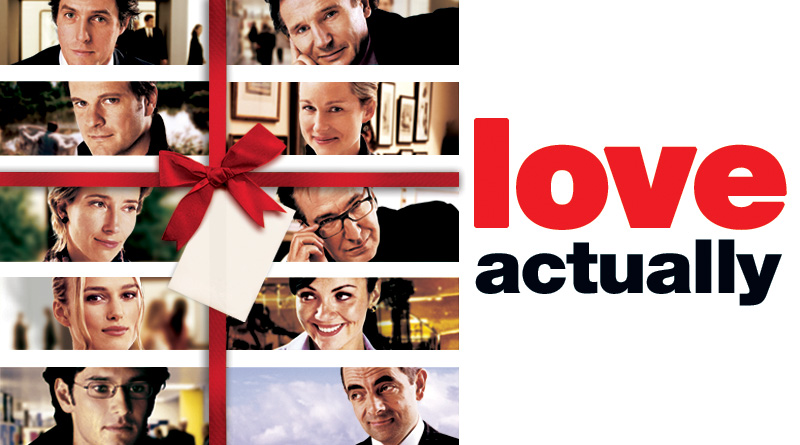 But, I'm a classics girl too. I love "It's a Wonderful Life" and give me any claymation "Rudolph" or "Frosty" and I'm hooked.
My new favorite are those cute little elves from "Prep and Landing."
Bottom line, I love anything and everything about Christmas movies!!
2. Have you ever had a white Christmas?
Absolutely! When you grow up in New England, a white Christmas is pretty much the norm.
3. Where do you usually spend the holiday?
We travel to Massachusetts every year and Santa finds us at Mimi's house on Christmas morning. Typically we spend Christmas Eve with Nick's family who also happen to live in Massachusetts. Christmas Day is spent at Auntie's house eating ourselves silly, opening presents and catching up with everyone that we barely get to see all year long.
This year is extra special since it's Grant's 1st Christmas and first trip home to Massachusetts to meet most of the family. It's also extra special to me since this is the first time that I've been home in a year.
4. What is your favorite Christmas Song?
I'm going to have to go with Mariah on this one. Who doesn't belt out that song in the car?!?! And now I have Georgia belting it out too.
But, I'm also a sucker for any of the oldie songs too. I pretty much have the holiday channel on in the car 24/7.
5. Do you open any presents on Christmas eve?
When I was younger and enjoyed sleeping in, this was a must so that we weren't running around crazy trying to get out of the house for Christmas with the rest of the family. Now that we have young kids, it's all about Christmas morning and Santa's arrival again!
6. Can you name all of Santa's reindeer?
I work in an elementary school. Yes!
7. What holiday traditions are you looking forward to most this year?
Georgia is at such a fun age and really appreciates all that the Christmas season has had to offer this year.
We always put up the house decorations on Thanksgiving weekend. Once those are up, it feels like it's a rush to squeeze in as many fun activities as possible.
We always kick off the season with Cookie Bake. This year was year #15. It was Georgia's 6th Cookie Bake, Grant's 1st, and my 9th. Not sure how long Nick has been attending - probably involved in all 15 in some way/shape/form (aka - eating cookies).
Unfortunately, due to timing, we didn't make it to ICE this year. Hopefully, we can squeeze that back on the calendar for next year.
This week, Georgia had 3 gingerbread decorating parties. I think I'm keeping all the nut free frosting companies in business as I keep running to the grocery store for her own supplies for these events. Earlier, we also had the Check's 2nd annual gingerbread house making party too.
Gingerbread decorating at school... with all her safe ingredients!
We also managed to hit up the Winter Lights festival for the second year in a row. Grant was out cold in the back seat the entire time, but Georgia loved popping out of the sunroof and seeing the lights from above.
Wearing Daddy's hat and hanging out of the car (literally)
Georgia has loved checking out her nightly after dinner treat with her advent calendar.
A newer tradition... Christmas jammies. Fred the Elf delivered them earlier this week! Georgia cannot wait to wear them to bed on Christmas Eve.
8. Is your Christmas tree real or fake.
Fake and proud of it! I couldn't handle the stress of a real tree and I think the fake ones are prettier. I've offered to Nick that he can totally have a real tree on the deck!
This year, Fred our Elf, also sneaked into the house and set up a small Christmas tree in Georgia's room! She's loving it.
9. What is your all time favorite Holiday food / Sweet Treat?
I will forever go home for Christmas as long as Uncle Paul is making his roast for dinner! He threatened to retire one year, so I'm making Nick apprentice with him this year. It is absolutely hands down my most favorite meal of the year.
10. Be honest, do you like giving gifts or receiving gifts better?
Give. Give. Give. I could care less what I get for Christmas, but seeing someone open up a present that they wanted or needed is the best. I love shopping for the kids, Mimi, Nick and all the aunts/uncles/cousins/nephews/niece/etc. Finding the perfect gift is like the ultimate scavenger hunt for me. It starts on Black Friday and continues all December long for me.
We were pretty shocked to find Santa on our street last weekend!
11. What would be your dream place to visit for the Holiday season?
Probably somewhere in the Swiss Alps?!?! It always looks so magical on tv and in the movies. I've only visited Switzerland in the summer and most of the snow had melted by that point, except for the tip-pity top of some of the surrounding mountains. It was the most beautiful place I've ever been, so I can't imagine it all covered in white!
12. Are you a pro present wrapper, or do you fail miserably?
I think I'm a pretty pro-wrapper. I learned from the best. Mimi can wrap anything and make it look good. I actually love wrapping and adding pretty ribbons and bows. The only problem these days is lack of timing and the fact that half our presents get squished on the ride to MA.